Original Post By Romance Novel Giveaways (Stop By To View The Original Post and To Comment!!)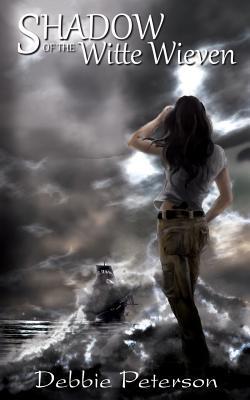 Despite a contract on her head, lone Drug Enforcement Agent, Aliyana Montijo must ferret out a mole and stop the assassination of top DEA officials, as so ordered by the Colombian drug lord she seeks to take down. The task is a daunting one, for there is no one she can trust. No one that is, until she encounters a most unlikely ally.
Former seventeenth century captain of the Dutch West Indies Company, Wolfaert Dircksen Van Ness, now from a parallel dimension, encounters the beautiful agent during an unearthly storm in the Bermuda triangle. Drawn to the Spanish beauty he rescues, he pledges his assistance, despite her reluctance to accept either his help or his heart.
Can Wolf bridge both space and time to claim the woman he loves?
The idea for this book arose from a beautiful painting that depicted a violent lightning storm over the ocean. I thought about all of the Bermuda Triangle stories then and wondered, what if?
My husband, a 32 year veteran of the Metropolitan Police Department and who worked the detective detail in cybercrimes alongside the Secret Service for many years, provided the information on technological gadgets, websites, the DEA, and insights concerning the inner workings of a drug cartel. The man is amazing!
I know only the very basics of the Spanish language. The Spanish used in the book was provided by a beloved nephew who speaks the language fluently.
Because so many of my readers wanted to know more about Wolf and his crew, I gathered all of the snippets I tossed on the cutting room floor and wrote a prequel to Shadow of the Witte Wieven, entitled Van Locken's Witch. You see, due to the length of the original novel, I needed to trim down the manuscript. Unfortunately, the back story was the first thing to go. (Yes, I cried…).
In conjunction with the prequel, that followed the sequel, (are you keeping up here?) my lovely publisher at Inkspell Publishing allowed me to include some additional content to Shadow of the Witte Wieven that ties the two books together a little bit better. In addition to the new content in the 2nd edition, we also have the beautiful new cover provided by the talented Shandra Kay! You'll just have to tell me what you think of it!
What exactly is a "Witte Wieven" anyway? Well, besides being the name of Wolf's ship (which he christened in honor of Lissa Capoen), the "witte wieven" or the "wise women" of Germanic legend are renowned herbalists, healers, and prophesiers of which Lissa was one. They were, and still are, highly respected in some cultures. Legend states that they can either help or hinder an individual, so it's best to stay on their good side.
"Are you going to answer the question, or are you not?" he quipped, ignoring her comment altogether.
"Ooh! Tu' eres el hombre más exasperante que he tenido la desgracia de conocer!" she huffed as she folded her arms and slammed them hard against her chest.
"Sorry?" His eyes danced with sudden merriment, while his lips twitched in amusement. "I didn't quite catch all that!"
In response to his mirth, she once again clenched her teeth. She could feel her cheeks flame as she jerked a pointed a finger toward his chest. "I said, you are the most exasperating man I've ever had the misfortune—"
The moment she drove her finger forward, her words abruptly ended and so did his mirth. Aliyana touched the tip of her tongue to her lips as she stared at what she could see of her finger. She slowly withdrew it from inside his chest, gazed at the digit, repeated her actions once more, and then gazed into his sky-blue eyes.
"Aliyana," Wolf whispered. "Don't be afraid of me. This isn't what you think."
She struggled to make sense of this new quandary. Her bewildered gaze shifted to his arms that still held her fast, traveled their length, and then rose to his face. Her lovely eyes, filled with such delightful indignation a moment ago, now held a trace of apprehension.
"Who are you?" she asked in a voice just audible to his ears. "Better yet, what are you?"
Creating tales of sweet otherworldly romance, one adventure at a time… Debbie has always had a soft spot for fairy tales, the joy of falling in love, and happily ever after endings. Stories of love and make believe filled her head for as long as she can remember. However, it was her beloved husband who encouraged, cajoled and inspired her to take up a pen and write some of them down. Her journey to published author could fill quite a few pages. However, in June of 2010, she submitted her debut novel "Spirit of the Rebellion" to The Wild Rose Press, her second to Inkspell Publishing, and the rest is history.
When she is not busy conjuring her latest novel, Debbie spends time with the members of her beloved family. She also pursues her interests in teaching classes on and searching out her family history—and somewhere in there, makes time to study mythology, as well as all things ancient and historic.
Win a $15 Amazon gift card