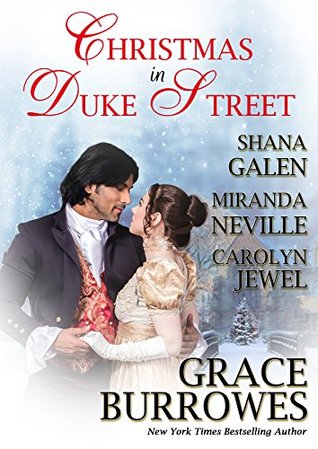 Title: Christmas In Duke Street
Author: Grace Burrowes, Miranda Neville, Carolyn Jewel, Shana Galen
Release Day: October 10, 2015

Synopsis:
Christmas in London is a busy time at the little bookshop in Duke Street, for love, literature, and shopping. Four couples come and go and discover that happy ever after makes the perfect Christmas gift. A new anthology from the bestselling authors of Christmas in the Duke's Arms and Dancing in the Duke's Arms.
The Rake Who Loved Christmas by Miranda Neville
Sir Devlyn Stratton wants to save his brother from an unprincipled adventuress, especially when he meets Oriel Sinclair and wants her for himself. Oriel won't marry for convenience or become a rake's mistress. But succumbing to Dev's seduction is all too tempting.
A Seduction in Winter by Carolyn Jewel
He's an artist and a duke's heir. She's sheltered and scarred. Can he show her by Christmas that love can be theirs to share?
A Prince in her Stocking by Shana Galen
Lady Cassandra has always done as she's been told. Meek and malleable, she's lived a life devoid of passion. When she meets a handsome man rumored to be an exiled prince, she sees one last chance at excitement. Little does she know, too much excitement can be dangerous.
The Appeal of Christmas by Grace Burrowes
The best Christmas present is the one he didn't realize he desperately needed.
-Taken From Goodreads